As of April 9, 2018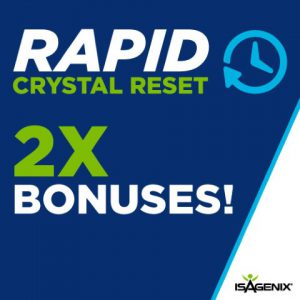 Double Consultant Rank Advancement Bonuses For a Limited Time!
April 2 – May 27, 2018
To kick off the Director portion of the Rapid Crystal Reset, all Consultant Rank Advancement Bonuses are going to DOUBLE for any Associate who advances to Consultant for the very first time between April 2 and May 27, 2018. Associates that rank advance to Consultant during this time frame will receive double the normal RABs! That's US$100 in the U.S. and Puerto Rico, or CA$110 in Canada instead of the standard US$50/CA$55! How great is that? Check in with your friends on the Isagenix Business Facebook group for more information on this.

Get Ready! The Shore to Shore Summer Tour Is Coming to Heat Up Your Business!
May 5 – June 23
We're on a mission to spark your inner entrepreneur this summer and to make sure you keep your Isagenix business sizzling all summer long. That's why we're hitting the road in an exciting tour to bring tailored training segments, product sampling, networking opportunities, and more to a city near you!  Click here to see when the Shore to Shore Summer Tour is coming your way. 
Race Through the Ranks With the Rapid Crystal Reset
March 5-May 27, 2018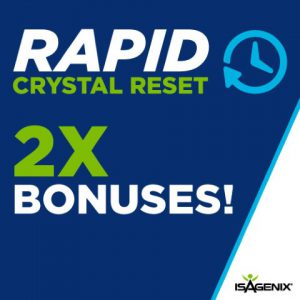 No matter when you started with Isagenix or when you decided to join the ranks as an Associate, you have an opportunity to earn a Crystal rank and earn double Crystal bonuses through this reset! Starting March 5, 2018, Associates could earn up to an additional US$4,000/CA$4,438* in bonuses by racing through the ranks to Crystal Executive by May 27, 2018.
No registration is required; kick your growth into high gear, build your team, and you're in!
Meet these milestones, and we'll pay out your bonuses each time you earn them. If you earn a "now" Rapid Crystal Reset bonus and remain an active Associate in good standing through June 18, 2018, you would qualify for a second Rapid Crystal Reset bonus in June 2018!**
For all the details and to check out the most frequently asked questions on this Rapid Crystal Reset, click here.
Subscribe to the Business Feed
Don't miss a beat when you sign up for the brand-new Isagenix business text feed! Receive a message the minute the news breaks on upcoming discounts, promotions, seasonal shake releases, and only the most important information you'll want to know when the action happens! Subscribe by texting:
ACTIONUSPR to 88588         (U.S. and Puerto Rico – English)
ACTIONCA to 91011              (Canada – English)

*The potential earnings for this Rapid Crystal Reset promotion assume best-case scenarios during the promotion period and are not typical or average. Isagenix does not guarantee any amount of earnings.
**Isagenix reserves the right in its sole discretion to deny volume or compensation for any activities it deems to be manipulative or contrary to the Isagenix policies and procedures and to audit, adjust, or deny any volume, compensation, recognition, or other incentives awarded during or as a result of this promotion to ensure the spirit of the promotion is achieved. Qualifications and rules are subject to change by Isagenix at any time without prior notice. All "now" bonuses earned through this promotion will be paid out one week in arrears. All "later" bonuses earned through this promotion will be paid out June 18, 2018. Qualifying Associates must be active and in good standing with Isagenix as of June 18, 2018, to be paid the "later" bonus. Associates who are not active and in good standing as of that date forfeit and waive all rights, incentives, and payments under this promotion. All dates end at 11:59 p.m. ET. Available to active Associates in the U.S., Canada, and Puerto Rico. Additional rules and obligations may apply.
The ability to earn income under the Isagenix Compensation Plan depends on many factors including an individual Associate's business, social, and sales skills; personal ambition and activity; availability of time and financial resources; and access to a large network of family, friends, and business contacts. Isagenix cannot and does not guarantee any particular level of earnings. Even Associates who dedicate a significant amount of time, effort, and personal funds may not achieve a meaningful level of success. For average earnings, refer to IsagenixEarnings.com.